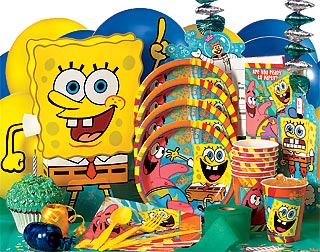 Beaver and Wally will be 5 and 7 this February and March, respectively. Neither has ever had a big birthday party with friends. We always just have a Sunday lunch and party at our home, and their grandparents and great-grandparents attend. I have a good time with this and I always make a neat "themed" cake from scratch. Recently we've done Transformers, Legos, Ninja Turtles, Buzz Lightyear, Elmo, Cars, etc.
This year, Beaver wants a SpongeBob theme. I have found MANY cakes online for SpongeBob and it looks like I'm going to have to learn to do FONDANT. I'm scared to death to do this because I don't want to mess up his cake, so I've decided to practice next weekend. If it looks good, I'll freeze it and save it for his birthday party. If it looks bad, it was a practice round and I'll know whether or not I can do it! :)
Beaver really wanted a party at Playworld this year, but he also wants a Nintendo DS and when it came down to it, he chose the DS over the party. Truthfully, I'm RELIEVED. I was afraid he might be too young for this type of party and few to none of his friends would come, which would devastate him.
I am, however, excited about having Wally's birthday party at Jumpzone this year. His birthday falls around Spring Break, so we'll have to make sure we accommodate for that. He's really looking forward to it!