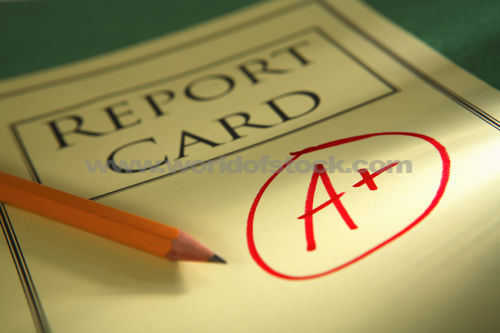 Wally and Beaver did very well on their report cards!
I went in for parent/teacher conferences on Wednesday and had great visits with both of their teachers. Beaver doesn't get a report card the first 9 weeks of Kindergarten, but his teacher told me he was tested for special needs (along with every child in his class) and they discovered he was actually very gifted and scored a perfect 10 on the test, which was the highest in all 5 Kindergarten classes! We are so proud of him. It's been tough to tell if Beaver is "smart" because he doesn't take life seriously at all. He's a very happy-go-lucky kid without a care in the world. Reading by himself or taking the extra time to learn something new on his own is not something he's interested in doing. It was comforting to know he's very gifted.
Wally's visit went well and he got 6 A's and a B+...he missed a A in Reading by 1 point! He was frustrated, but his teacher assured me that if averaged an A with all 4 report cards in every class, he could still get the Principal's Achievement Award, which is something he got last year and is determined to get again.
I love our Christian school so much and we feel so fortunate to be able to send our children there.